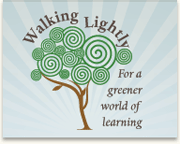 Poster Competition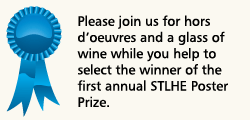 The 2008 STLHE Conference Organizing Committee has instituted a number of changes to the poster session this year with the aim of promoting their importance and value as opportunities to explore effective and innovative teaching and learning practices, and disseminate research results. These include the following:
The poster session will be a showcase event accompanied by a reception.
Articles with accompanying graphics based on posters will be eligible for submission to the annual journal Collected Essays on Learning and Teaching (CELT), a publication drawing largely from the work of conference presenters (also including workshops, concurrent sessions, and roundtables).
Presenters have been strongly encouraged to reconceptualize the poster session in creative ways to incorporate active learning approaches and interactive engagement with both poster and presenter. This initiative is intended to make poster presentation practice more consistent with the active learning ethos that the STLHE has so successfully fostered in concurrent and workshop presentation practice.
To encourage the growth of innovative and effective poster practice, all posters will be eligible for an adjudicated poster competition. The award criteria are as follows:

Conceptual Depth and Content
The originality, strength, and depth of the material, and the robustness of its conceptual basis.
Clarity
The poster's ability to communicate its message effectively. Large amounts of difficult-to-read text are not in evidence, and innovative and highly visual approaches to communicating information are adopted. Poster presenters may provide more detailed explication in a handout.
Design
The poster's visual design and use of images and diagrams effectively reinforce the themes and concepts explored.
Potential for Engagement
The poster's potential to inspire active learning. Innovative approaches to poster design foster greater and varied interaction between viewer and presenter.

Conference participants are invited to take part in the selection process during the Reception, Poster and Resource Sharing Session on Friday, June 20. Popular vote based on the criteria above will determine five finalists, from which the winner will be determined by the adjudication panel.
Ballots to vote on posters are found in conference wallets.
We would like to thank this year's adjudication panel, which includes:
Ken Cramer, Poster Sessions Committee Co-Chair
Professor
University of Windsor

Brian Cowan, Poster Sessions Committee Co-Chair
Instructional Designer
University of Windsor

Beverley Hamilton, Convener, Programming Committee
Assistant to the Vice-Provost, Teaching and Learning
University of Windsor

Ted Needham
Representative, 2009 STLHE Conference Committee
Teaching and Learning Services Coordinator
University of New Brunswick

Margaret Wilson
Representative, STLHE Board of Directors
Educational Developer
Norquest College

Alison Holmes
Director, University Centre for Teaching and Learning
University of Canterbury (New Zealand)

Members of the adjudication panel are not eligible for the poster prize.

The poster competition trophy will be awarded at the Closing Plenary on Saturday, June 21.