Opening Plenary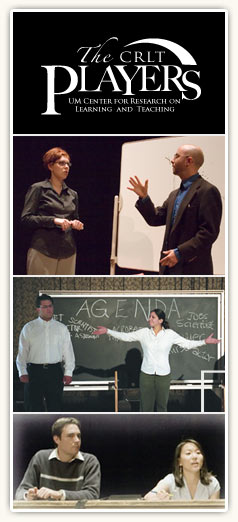 The First Lecture
Performed by the Center for Research on Learning and Teaching (CRLT) Players
University of Michigan
Thursday, June 19, 10:30 to 12:00 pm
Erie Hall
The First Lecture uses music, lights, multimedia, and high energy performance to engage questions related to student diversity and learning, as well as pedagogical innovation. Based on interviews and focus groups with award-winning faculty, the performance weaves challenging and illuminating classroom moments with broader perspectives and philosophies regarding teaching and learning. An interactive workshop follows the production, providing the audience with an opportunity to react to the student and faculty narratives, while reflecting on their own teaching philosophies.
About the Players
Through performances, workshops, seminars, and individual consultations, the University of Michigan's Centre for Research on Learning and Teaching Theatre Program provides educators and administrators with an innovative and dynamic approach to spark dialogue, promoting inclusivity, and effecting positive change in and out of the classroom and department. The CRLT Players perform regularly at the university as well as nationally and internationally, exploring the experiences of underrepresented students and faculty in post-secondary settings. In 2005–2006, the Players performed more than 85 times for over 5,000 faculty, graduate students, and administrators both at the University of Michigan and on many other campuses. The troupe has been featured at conference meetings of the National Science Foundation in Washington, DC, and was a keynote presenter at the Professional and Organizational Development Network in Higher Education (POD), the Association for Theatre in Higher Education (ATHE), and the Carnegie Association for the Advancement of Teaching Summer Academy. In 2006, the American Council of Education and TIAA-CREF awarded the CRLT Theatre Program the Theodore M. Hesburgh Certificate of Excellence, a national award for the recognition of excellence in faculty development.
We are proud to be hosting this groundbreaking troupe, whose work is sure to inspire creative thinking, dialogue, and exchange on the complexities, challenges, and richness of living, teaching, and learning in the diverse environments of contemporary campuses.