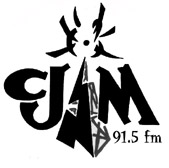 BACKGROUND:
CJAM (which is governed by the Student Media/university of Windsor Corporation) was founded in 1977. Before that it was CSRW; a carrier current AM station. In Nov. 1983, CJAM became a low power FM station located at 91.5 on the fm dial, and 91.9 fm on Trillium Cable. From 1983 through 1996 we broadcasted at 50 watts. Our listening range was West and downtown Windsor, metro Detroit; other parts of Windsor, Lasalle, Riverside, and Detroit suburbs were reached to varying degrees of clarity. In 1996 we increased our power to 500 watts, allowing us to be heard clearly in all sections of Windsor and Essex county. See ,CJAM's IRREVERENT HISTORY , by: Mark. Fedak
GENERAL MANDATE:
CJAM is a nonprofit campus-based community radio station that was founded in 1977. We provide music and information programming not offered by mainstream commercial media in the Windsor/Detroit area. We serve people and groups within the community who are under represented or maligned by mainstream media by allowing a forum to express their views.
Where are we located & what is our broadcast range? Click here to find out.
---