NCRC 2008
11.04.08
EARLY BIRD REGISTRATION
Early Bird Registration is now available! Register before Friday May 9th and save, save, save! Simply fill out the
registration form
and fax it to 519.971.3605, or mail it with your cheque or money order to:
CJAM FM
Attn: Conference Coordinator
401 Sunset Ave
Windsor ON
N9B 1Z2
Please make cheques payable to "CJAM 91.5 FM".
Alternately you may pay using Visa or Mastercard by filling out and including
this form
in your fax/mail.
If you have any questions regarding registration, please do not hesitate to contact CJAM Station Manager Adam Fox at 519.971.3606 or via email at statcjam
uwindsor.ca!


ACOMMODATIONS UPDATE!


If you are anxious to book reservations, we have reserved suites at Alumni Hall and also have secured discounted accommodations at two downtown hotels that are "walking distance" from the University:

University Residence: Rooms at Alumni Hall on the campus of the University - super close to all conference seminars, though not downtown, per se'. Rooms at AH are "suites" featuring two separate bedrooms with one shared bathroom and a kitchenette w/ fridge and microwave. Prices - $81 single, $91 double, $101 quad (two people per bed). To reserve your residence accomodations click here!

Travelodge: Discounted price on a room with two double beds - $99 per night
Phone: 519-258-7774
http://www.travelodge.com/Travelodge/control/Booking/property_info?propertyId=09681&brandInfo=TL

Radisson: Discounted price on your choice of room with single double or two double beds for $115 - FREE UPGRADE TO WATERFRONT VIEW WHILE SUPPLIES LAST - this may sound cheesy, but the Detroit skyline is pretty awesome.
Phone: (519) 977-9777
http://www.radisson.com/windsorca

There will be a limited number of billets available as well, more details to follow. We are working on the Registration portion of the website which will be online soon - you'll be able to book Residence Rooms at Alumnio via this page! Stay tuned!

Can't wait to see all of you this June.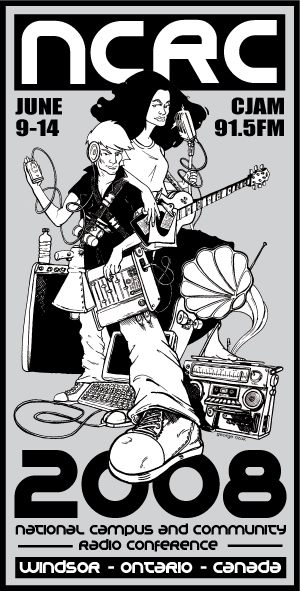 2.20.08
Conference Update!


CJAM is excited to be hosting this year's National Campus-Community Radio Conference. From June 9-14th delegates from stations across the country will converge on Windsor for a week of seminars, panels, workshops and, of course, celebration. This page will be updated regularly with information regarding the conference. If you have any additional questions please do not hesitate to drop Station Manager Adam Fox a line.

Thanks, and hope to see you all in June!