Myron Hlynka's Queueing Theory Page

---
---
This Queueing Theory web site contains information on Queueing Theory collected by Dr. Myron Hlynka , of the University of Windsor, in Windsor, Ontario, Canada. It includes a list of books on queueing theory, a list of home pages and a list of e-mail addresses of queueing theorists.
If you would like to make corrections or add information, or suggest a new topic related to queueing, please e-mail Dr. Hlynka at
hlynka @uwindsor.ca
URL is http://web2.uwindsor.ca/math/hlynka/queue.html
Last update: August, 2016.

---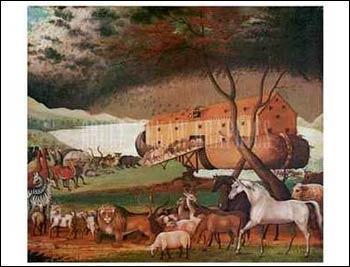 Edward Hicks' "Noah's Ark" (a very early queue)
---
MITACS Project. Supervisor: Dr. M. Hlynka, U. of Windsor
2017 Globalink Research Internship student applications are now open.
Apply by September 20, 2016, at 4 p.m. PDT for travel to Canada starting in May 2017.
https://www.mitacs.ca/en/programs/globalink/globalink-research-internship
Queueing with Invisible Customers
Queueing systems may have some customers which are invisible to an observer. For example, an observer may be at a remote location from a line of cars and the front part of the line may be blocked from view by a building. As another example, a recent trial cancer treatment is based on the fact that cancers have a shroud that makes them invisible to the body's immune system. The treatment is actually a mild viral infection that removes the shroud and allows the immune system to fight the cancer. In both examples, the queue is observed only when the queue length reaches a threshold level which make it detectable (the cars visible beyond the building and cancer makes the patient sufficiently ill to require medical treatment, which detects cancer). The purpose of the project is to build a mathematical model for queues with invisible customers and to study the amount of time required to move from the first detection of the queue to an empty system (all the cars are served, and the cancer is cured).
---
Topics
NEWS:
---
---
---
UPCOMING QUEUEING CONFERENCES
July 18-20, 2016.
European Conference on Queueing Theory.
Toulouse, France.
http://ecqt2016.sciencesconf.org/

Aug. 22-23, 2016. CanQueue 2016.
McMaster University.
Hamilton, Ontario.
Conference Chair: Doug Down:
downd@mcmaster.ca
http://www.cas.mcmaster.ca/canqueue/index.html
August 24-26, 2016. 23rd International Conference on Analytical and Stochastic Modelling Techniques and Applications (ASMTA 2016), Cardiff, Wales, UK

http://asmta.ugent.be/
---
Links to Queueing Related Material
---

Acknowledgements Dr. Hlynka recognizes funding from the University of Windsor which assists in his queueing theory research.