Course outline

The full course outline, with details of the class schedule and the assignments, can be found in the course outline here.


---
Course description
Bird song is a model system for understanding the behaviour and ecology of animals. Research on bird song has yielded critically important insights into natural selection, sexual selection, animal culture, learning, cognition, neurobiology and behaviour, and patterns of variation in space and time. In this reading-and-discussion-based course, we will explore both the historical study of avian vocal communication as well as the most current research in this field. We will learn some general principles of behavioural ecology with a focus on animal communication, as well as specific details of behavioural ecology as they relate to acoustic communication in birds. Classes will involve lectures, student seminar presentations, and discussions of assigned readings. In the latter part of the course students will lead seminars and discussions, and write term papers on topics of their choice. There will be one short laboratory assignment, which is designed to encourage you to become familiar with the latest technology in bird song analysis, and one short critique assignment.
---
Textbooks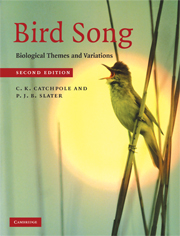 Very highly recommended textbook:
(1) "Bird Song: Biological Themes and Variations" SECOND EDITION By Clive Catchpole & Peter Slater (Cambridge University Press). The first edition of this book, published in 1995, was an important synthesis of the topic of acoustic communication in birds. The second edition is now available . Advertised at $52.89 from amazon.ca. I recommend that students purchase this book.
Additional textbook that we will refer to:
(2) "Nature's Music: The Science of Bird Song" edited by Peter Marler & Hans Slabbekoorn (Elsevier). The book includes 14 chapters on 14 of the fundamental topics, each chapter written by the expert in their sub-field of bird song research. The book comes with a CD that contains audio examples of all songs discussed in the book. THERE IS ONE COPY AVAILABLE IN THE MENNILL LAB. Advertised at $87.82 from amazon.ca.
These books will be valuable resources during the course, and are an excellent addition to the library of anyone interested in the behavioural ecology and vocal communication in birds.
---