ELEVEN REASONS WHY WRITING A DISSERTATION IS
HARDER THAN HAVING A BABY
1. Three months before your due date, your doctor doesn't say,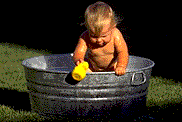 "I want you to go back and re-do the first trimester's work."
2. Unlike advisors, you can switch doctors without having to start over.
3. Conceiving a baby is WAY more fun than conceiving a topic.
4. You know exactly how long a pregnancy takes.
5. Friends and relatives don't question the worth of a baby.
6. You don't need to explain repeatedly to friends and family what it takes to make a baby...
and why you're not through yet.
7. No one will make you go to grad school before having a baby.
8. Everyone will say your baby is cute and you'll believe them.
9. Babies don't require proper footnoting or adherence to a style manual.
10. You can freely borrow other people's stuff if you're having a baby and not be accused of plagiarism.
11. No one will complain if your baby is too similar to another one.