Welcome to the Ciborowski Lab

Research in the Ciborowski lab deals with the distribution, behaviour, and ecology of aquatic invertebrates as influenced by natural and human-induced environmental stressors. We study lake, wetland, and stream habitats in the Great Lakes basin (especially western Lake Erie), and the Athabasca Oil Sands region of northeast Alberta.

For a flow chart of the major Ciborowski Lab projects and areas of research, please click on the Project Map thumbnail below. The Project Map also contains links to the external websites of collaborative projects of which the Ciborowski lab is a part.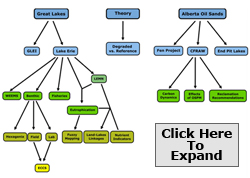 Ciborowski Lab Project Map

Dr. Jan Ciborowski
Professor

Address
Biological Sciences
401 Sunset Ave.
Windsor, Ontario, N9B 3P4
Canada

Contact
E-mail: cibor@uwindsor.ca
Fax: 1-519-971-3609
Phone: 1-519-253-3000
Office: x2725
Lab: x4764

Main Lab
Biology Building, Rm 36