The Clean Diesel research group invites qualified applicants for NSERC Undergraduate/Graduate Scholarship and Postdoctoral Fellowship related to research themes below.
Openings for Graduate students in Master and PhD program in Advanced Clean Diesel Technologies and Industrial Projects
(1) Premixed Diesel Combustion
The premixed diesel combustion research focuses on low temperature combustion with high levels of exhaust gas recirculation (EGR), Diesel homogeneous charge compression ignition (HCCI).
(2) Active Flow After-treatment.
The active flow control after-treatment works on periodic flow reversal, parallel flow, flow stagnation, and flow control valve innovation.
Reversal flow concepts, DOC/DPF modeling, thermal response analysis- engine/exhaust plenum.
(3) In-cylinder Combustion Research and Emission Control
Multi-event injection combustion studies and on-fly adaptive combustion control, HAV VVT research.
(4) Biofuels/Biodiesel Compatibility Research and Emission Control
(5) Catalytic EGR reforming
The state-of-the-art facilities of Clean Diesel Research Laboratory include integrated 3 modern diesel testing engines in operation with a double-ended motoring engine dynamometer and an eddy current engine dynamometer, to which the comprehensive instrumentations and advanced controls are connected, live via a network of 19 PCs and Laptops, and 3 real-time controllers embedded with FPGA and Can-Bus technology. All the PCs and Laptops are equipped with fast data acquisition and control devices and are interconnected via data socket techniques. Several modern Diesel Engines with high-pressure fuel injection system and common-rail piezo fuel-injection system are available for testing. Time-resolved, high-speed in-cylinder sampling valve has been used in fuel research. A hydraulically-actuated Variable-Valve-Timing system is equipped on a 6-cylinder diesel engine for advanced clean diesel research running in a 1:3-single cylinder mode. Independent intake boost (VGT) pressure control, EGR control, throttling control, and injection control are being used with in-house programs during each engine test. On-line rail pressure, cylinder pressure and injection scheduling/duration and various sensors (over 100 sensors) are all being monitored and data are stored/synchronized during each tests.
Diagnostic, Control, and Reporting Facilities
Advanced emission analyzer systems (CO/CO2/O2/NOx/HC) including fast response Cambustion analyzers, AVL smoke meter, CAI analyzers, and high temperature/pressure measurement and diagnostics systems; Heated synthetic gas testing benches; EGR and intake boost treatment systems.
Clean Diesel Labís own custom designed Labview programs for low pressure fuel injection, HCCI enabling program, boost and backpressure automatic control, on-line heat-release analyses, emission monitor, high precision cylinder pressure trace recording program, and emission and performance analysis, data synchronization and reporting etc.
In-house software to facilitate/monitor engine performance: On-line heat release analysis program, Data synchronization and reporting tool, Adaptive control Program
Active Flow aftertreatment Testing Benches
Diesel after-treatments devices, diesel particulate filter, lean NOx Trap and oxidation catalyst can be tested in conventional and active-after-treatment configuration. After-treatment devices include the patented reversal flow valve and canister embedment, external fuel injection implementation, parallel flow and flow stagnation set-ups with adaptive controls. DPF, DOC and Lean NOx traps from major diesel catalyst companies. Active EGR control and EGR stream reforming, fuel-oxidation reforming with active-flow control are embedded in the aftertreatment and intake system.
A PC-based fuel injection system has been set-up to produce multiple-pulse injection for common-rail engine and post injection for after-treatment projects. CO/CO2/NOx /O2/HC emission analyzers and an AVL smoke meter have also been commissioned. The 96-channel data-acquisition system is being used for temperature measurements. A real-time controller has been configured and programmed for modeling-based control of common-rail engine and after-treatment devices.
CFD tools used: Labview, Wave, Chemkin, GT-Power, Simulink, MATLab, AutoCAD, Mechanical Desktop, and Star-CD
Industrial and contract projects:
Common-rail Diesel Engine projects with Ford
Advanced clean engine development contract projects with Navistar
Active flow control after-treatment by Zheng and Reader group and partially sponsored by EcoCing and others
Advanced research on in-cylinder combustion control and active flow after-treatment - Effects on Fuel and Lubricants with Imperial Oil and NSERC-CRD supports
H2-enhanced combustion and catalytic EGR reforming with BlueGreen and others
High efficiency engine research with Ford via NSERC-CRD project
Projects supported by governmental agencies:
Auto21, "Develop Electronic Control for Fully Variable Valve Timing and HCCI Combustion" and KTT and "Flexible Operation of HCCI Combustion using Intelligent Control"
Auto21, "Enabling Biodiesel Fuel Use for Sustainable Mobility" and "2nd Generation Biofuels for Sustainable Transportation"
Auto21,
Auto21,
NSERC, "After-treatment Thermal management studies", and "Low Temperature Diesel Combustion Study via Time-resolved Direct Gas Sampling", and "Development of direct fuel injection technology based on piezo-ceramic actuation"
CRC/CFI/OIT, "Clean Diesel Engine Laboratory for Active Control Aftertreatment and HCCI Enabling Technologies Investigation of Exhaust Transient Catalytic Activity by Temperature Sensing" and "Infrastructures for Clean Diesel Engine Technologies"
Forward/backward in-cylinder combustion control and active flow after-treatment
CFI/ORF, "Centre for High Efficiency Clean Diesel & Hybrid Powertrain Research", "Green Auto-Powertrain"
CRC, "

Partial HCCI Enabling Technology and Active Flow Control Aftertreatment

", "

Clean Diesel Research in Low Temperature Combustion and Active Flow Aftertreatment

"
OCE: H2-enhanced Combustion research with BlueGreen Inc.
NSERC-Strategic Partner Program: ""
Connect Canada - Chrysler Internship program in thermal management modeling
NSERC-OCE
The Clean Diesel research group consists of faculties, graduate students, technicians, and research fellows involving industrial partners.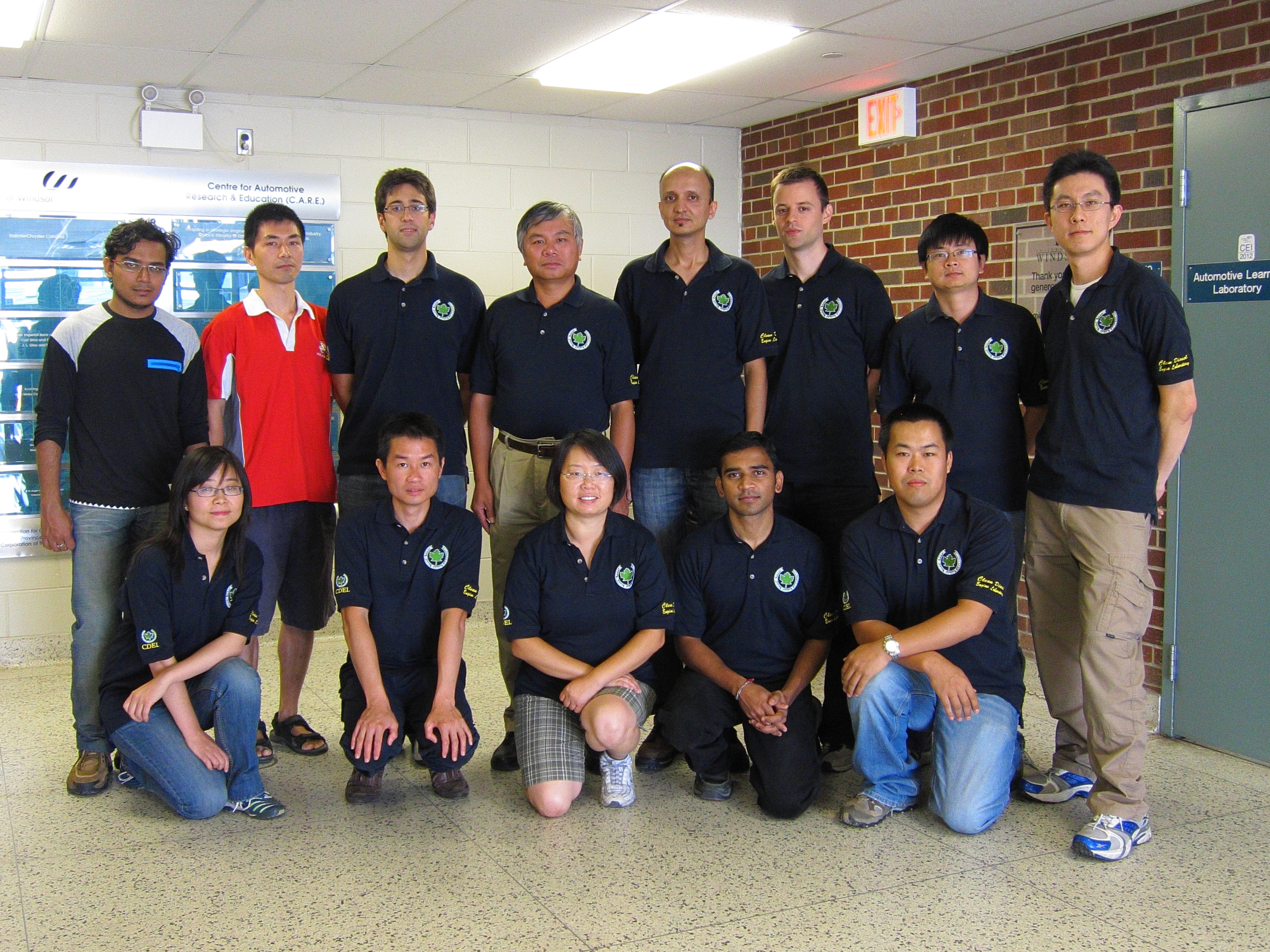 Current Researchers
Shouvik Dev; Xiaoye Han; Prasad Divekar; Marko Jeftic; Kelvin Xie; Tongyang Gao; Stephen Gemin, Timothy Reaburn; Qiaochu Han, Dr. Yu, Shui; Dr. Tadanori Yanai; Dr. Meiping Wang
Current Faculty Collaborators:
Dr. G. T. Reader, Dr. X. Chen, Dr. P. Henshaw, Dr. X. Xu, Dr. A. Sobiesiak., Dr. D. Ting
Dr. Ming Zheng and Dr. Graham T. Reader.

Contact phone: (519) 253-3000 ext. 4154