Management of Common Reed (Phragmites australis) at Erie Marsh Preserve
Authors
Chris May, The Nature Conservancy
Background
Coastal marshes and other wetlands in the western Lake Erie basin have been heavily impacted by landuse changes; more than 95% of the original 400,000 ha (988,421 acres) of coastal marshes have been drained or converted to other uses (Herdendorf, 1987, 1992). More recently, non-native plant species have invaded coastal marshes, posing a serious threat to the quality and ecosystem function of these wetlands.
Erie Marsh Preserve, located in North Maumee Bay on the western shore of Lake Erie (
Figure 1
), is a 897-ha (2,217-acre) natural area owned by The Nature Conservancy and managed in partnership with the Erie Shooting and Fishing Club and U.S. Fish and Wildlife Service. Erie Shooting and Fishing Club, which owned the property in the 1870s, managed the marsh to maximize waterfowl hunting opportunities. The Club generously donated the preserve to the Conservancy in 1978 and continues to lease the hunting rights and actively manage a central diked area of about 404 ha (1,000 acres).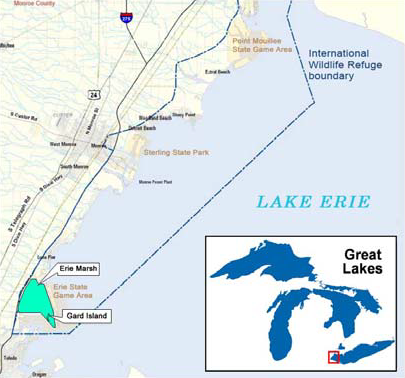 Figure 1.
Location of the Erie Marsh Preserve in western Lake Erie.
Erie Marsh is a globally important stopover site for migrating waterfowl, land birds, and shorebirds, is home to the state threatened eastern fox snake (
Pantherophis gloydi
), is a breeding area for bald eagles, and provides habitat for other rare plant and animal species.
Vegetation in the marsh was relatively stable from the early part of the century until the early 1970s (Hunt and Mickelson, 1976). Over this period, the marsh was characterized by "large stands of cattail, spike rush (
Eleocharis
) in the low areas, roundstem in the transition from water to marsh land, clumps of willow on high ground, thistles and weeds on the dikes, and bodies of shallow water with muddy bottom" (Douglass, 1934; as reported by Pirnie and Foster, 1964).
Status and Trends - Invasive Plants
Recent decades have seen Erie Marsh Preserve invaded by non-native plants, including purple loosestrife (Lythrum salicaria), narrow-leaved cattail (
Typha angustifolia
), and common reed (
Phragmites australis
), which has become one of the primary threats to native wetlands throughout the Great Lakes basin. Purple loosestrife is no longer a threat to Erie Marsh (and many other wetlands) following the releases of a biological control (
Galerucella sp.
) in Michigan during the mid-late 1990s (Landis et al., 2003). Narrow-leaved cattail continues to be a problem, but has remained under control through a combination of herbicide treatments, water level management, and unexplained dieoffs.
Common reed was reported at low densities in the 1950s (Hunt, 1957), though we do not know whether the plants were native or nonnative types. The native type of common reed was first documented at Erie Marsh in 2004. While the exact period of invasion by the non-native type is unknown, this probably occurred in the late 1980s-early 1990s. An assessment of aerial photographs from 1984 to 2003 indicates a dramatic increase in the coverage of common reed. In the 1984 photographs there are no clearly distinguishable invasive types of common reed. Conservative interpretation of the 1998 and 2003 imagery reveals at least 72 ha (180 acres) and 132 ha (325 acres) of invading common reed in those years, respectively (
Table 1
).
Sustained management efforts for non-native common reed have been ongoing since 2010, following the establishment of the Detroit River-Western Lake Erie Cooperative Weed Management Area (DRWLE CWMA), a collaborative focused on managing invasive plants and improving the quality of coastal wetlands of Wayne and Monroe Counties, Michigan. During the past nine years, the DRWLE CWMA has used a combination of herbicide treatments, mowing, and water level management to reduce the abundance of common reed at Erie Marsh Preserve. DRWLE CWMA uses GPS technology to track areas of invasion and treatment. In 2018, dense coverage of non-native common reed occurred across 60 ha (148 acres) (
Table 1
).
Table 1.
Area of dense coverage of common reed at Erie Marsh Preserve.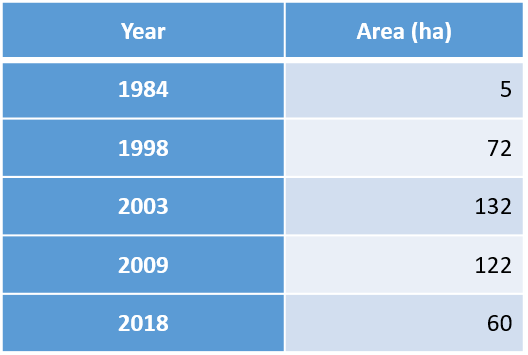 Management Next Steps
DRWLE CWMA will continue to manage common reed and other invasive plants at Erie Marsh Preserve using a combination of herbicide application, mowing, and flooding, possibly supplemented with prescribed fire. In addition, since 2010, The Nature Conservancy has been implementing a large-scale restoration plan of 390 ha (965 acres) of the diked wetland. When completed, the restoration will allow better water level management, which will in turn allow better management of common reed. The restoration project has also re-established a hydrologic connection between the diked wetland and North Maumee Bay, providing fish access to an area that was separated for more than 60 years. The ultimate goal of the restoration is to increase the quality and diversity of wetland community types at the preserve.
Research/Monitoring Needs
Emphasis continues to be placed on surveys, monitoring, and research with the goal of improving strategies and management actions under an adaptive management framework. Data on water quality, vegetation, birds, herpetofauna, and fish are collected every few years. Erie Marsh Preserve is a benchmark site for the Great Lakes Coastal Wetland Monitoring Program (
https://www.greatlakeswetlands.org/Home.vbhtml
). The Nature Conservancy also encourages research at the preserve and has permitted at least six projects over the past eight years on topics ranging from vegetation surveys to sampling and tracking land bird migrants and other wetland species.
References
Herdendorf, C.E. 1987. The ecology of the coastal marshes of western Lake Erie: A community profile. U.S. Fish and Wildlife Service Biological Report 85 (7.9). Ann Arbor, Michigan, USA.
Herdendorf, C.E. 1992. Lake Erie coastal wetlands: An overview. Journal of Great Lakes Research 18:533-551.
Hunt, G.S.1957. Report of surveys on the Erie Shooting Club Area. Erie Research Committee. Monroe County, Michigan, USA.
Hunt, G.S., and P.G. Mickelson. 1976. Ecological studies at the Erie Shooting and Fishing Club marsh and their management implications, Monroe County, Michigan, USA.
Landis, D.A., D.C. Sebolt, M.J. Haas, and M. Klepinger. 2003. Establishment and impact of Galerucella calmariensis L. (Coleoptera: Chrysomelidae) on Lythrum salicaria L. and associated plant communities in Michigan. Biological Control. 28:78-91.
Pirnie, M.D., and J. Foster. 1964. Report of Erie researches, 1960 through 1963. Erie Research Committee & Wildlife Management Foundation. Ann Arbor, Michigan, USA.