David W. Bradley
WELCOME!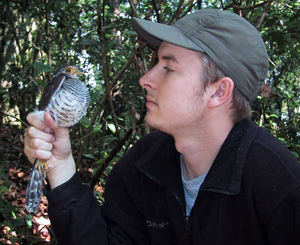 You have reached my homepage. I am a graduate student at the University of Windsor, in southern Ontario, Canada. I am studying for my Masters of Science degree in biology, with a specialization in behavioural ecology. In case you're wondering what exactly behavioural ecology is, I'll tell you. It is the study of the ecological and evolutionary basis for animal behaviour, and the roles of behaviour in enabling an animal to adapt to its environment. For more information on what my research interests are, please have a look at the research section of my website. If you would rather just see some of my photos, see the photos section.
Happy surfing!
NEWS
February 2008 - I am now back in Windsor after a 6 week research trip to Colombia. Read about it here.

September 2007 - I presented some of the early results from my thesis research in a poster presentation at the Society of Canadian Ornithologists (SCO) annual meeting. I received an honourable mention as the most impressive student research presentation.

July 2007 - While conducting my thesis research in Costa Rica, I made a discovery new to science! I found and monitored a nest of the Bare-crowned Antbird. Read my description of this nest and parental behaviour in this publication.