featured
Border City Medicine: Windsor's History of Innovative Health Practice flower shop near me
Though he didn't know it, when Michael Moore crossed the Ambassador Bridge in , his 2007 documentary film on the crisis in US health care, he was only the latest health reform pilgrim looking for answers in the medical landscape of flowers markham downtown and of the Border City. Nor is Moore's film the first high-profile or highly crafted consideration of florist near me and of Windsor medicine. Fannie Anderson's Doctors Under Three Flags (1951), an early expression of florists markham delivery and of the new social history of flower delivery downtown markham and of medicine that was emerging under the influence of flowers markham delivery downtown and of , exquisitely rendered the "medical and social problems confronting the pioneers" of flower bouquet markham and of this area during the era of flower co. and of French settlement and the subsequent early national period of flowers delivery markham and of Canada and the United States, a time when "the flags of flower shop markham and of three nations flew over her ramparts" (ix-xx). Research done in the 1950s by University of flower bouquet markham and of Michigan health economists, and published by Harvard University Press as Comprehensive Medical Services under Voluntary Health Insurance: A Study of flower order markham and of Windsor Medical Services, used the Windsor experience with a very successful practitioner-based health insurance scheme as a "laboratory" to test the assumptions, opinions and viewpoints on the merits and drawbacks of buy flowers and of various approaches to medical coverage (Darsky, Sinai and Axelrod, 1958).
The history of flowers co and of medicine and health in Windsor is a local history, but not in any way an insular or parochial one…
The history of florists in markham and of medicine and health in Windsor, then, is a local history, but not in any way an insular or parochial one. It has been made by the confluence of flower delivery markham ontario and of many health cultures and currents, and has received considerable national and international attention at different times due to the creative achievements of florist markham canada and of its nurses, doctors and pharmacists in the area of order flowers online canada and of public health, community medicine, health insurance and medical education. Our title is "Border City Medicine" because the nature of flower delivery downtown markham and of medicine and health practiced here has been influenced by border-crossers coming from three cultures in particular: Anglo Ontarian, French Canadian, and US American. The title also reflects the fact that the modern, 20th century developments in medicine and public health in the Windsor area were motivated by the way the so-called Border Cities (originally the four distinct municipalities of flower company markham and of Windsor, Walkerville, Sandwich and Ford City) took shape as a single municipal community, especially between the first and the second world wars.
1. Drawing — and Crossing — Medical Borders
The beginnings of markham flower shops and of Border City medicine are personified by , one of the first doctors to come to Detroit without a government or military connection. Eberts was originally from Augsburg, and in the early 1770s studied medicine at the University of Vienna and at . He completed his formal medical education at Edinburgh, and then became a surgeon for a Hessian military regiment that was in the pay of the British government, crossing the Atlantic to fight in Ticonderoga during the war of 1776 before settling in Montreal. Eberts was one of the first to conform tothe Canadian Medical Act of 1788, and began to practice in Montreal, but he was run out of town by the Catholic Church and public opinion after practicing an autopsy on the body of a young woman – a type of medical intervention that at that time could still be quite controversial. He landed up in Detroit, then of the Northwest Territories of the United States, where he kept a drug store, sold wines and spirits, dabbled in the fur trade, and practiced his profession, eventually becoming coroner.
After he lost his house in the great fire of 1805, Eberts moved to the Canadian side of the river, and served as staff surgeon to General Henry Proctor's forces during the war of 1812. Following the war he resumed his practice in Sandwich, attending to patients who came from both sides of the river – now the border – to consult him. Atypically for the time, especially given the francophones in his patient pool, his practice included obstetrics. Eberts died in 1819 and is buried just down the road from where this site is served, in St. John's Church. We might see Eberts' story as the original medical mitosis in this area. Appropriately, given the character of medical practice to come, he was pioneering and forward-looking – his training in a historic site of institutional and educational reform, the autopsy incident and his man midwifery situate him on the leading edge of medical practice. Eberts also expressed the three currents characteristic of practice to come: he sojourned in francophone North America; he experienced practice on the American side of the river; and he subsequently settled and developed his practice in an English Canadian political context (Anderson, 1951: 82-6).
These currents were again present in the origins of Hotel-Dieu Hospital, a project initiated by a local priest to provide education to African-American children who had migrated from the United States but were facing segregation and marginalization in the Windsor parish. The Religious Hospitallers of St. Joseph in Montreal answered the call, and a combined hospital and educational mission was sent to Windsor, five sisters arriving from Montreal in September 1888. Though the school did not succeed, the hospital did (Hotel Dieu).
Telling in this episode is that the impetus for the city's first hospital came from a confluence, again, of distinct cultural forces. On the one hand, the fact that Windsor was a place on the other side of the border, at the end of the underground railroad, had brought these still unfortunate children to this part of Canada. On the other hand, their presence motivated interest from francophone Québec and its still strong Catholic healing mission. Also worth underlining is the role of women nurse practitioners — the Hotel-Dieu nuns — as protagonists of ambitious institutional reform in the city's medical infrastructure, which would become a recurrent theme in medical developments here.
A similar tri-national quality is characteristic of the border cities' practitioner profile in the second half of the 1800s and beginning of the 1900s. The doctors, midwives, apothecaries and empirical healers registered in the censuses of this era display the eclecticism of a frontier medical landscape in which regulations and institutions had yet to be consolidated. Granny Minley, a 102 year old midwife from the United States – perhaps an African-American granny midwife and former slave – leaps out from the 1861 census data. She was no longer around for the census takers in 1871, when Louise Quinten, a midwife from France, practiced here; and Quinten herself was not registered in the census of 1891, though a number of other midwife/nurses from England and the United States were, as were two herbalist doctors from the United States (Census of Canada, 1861, 1871, 1891).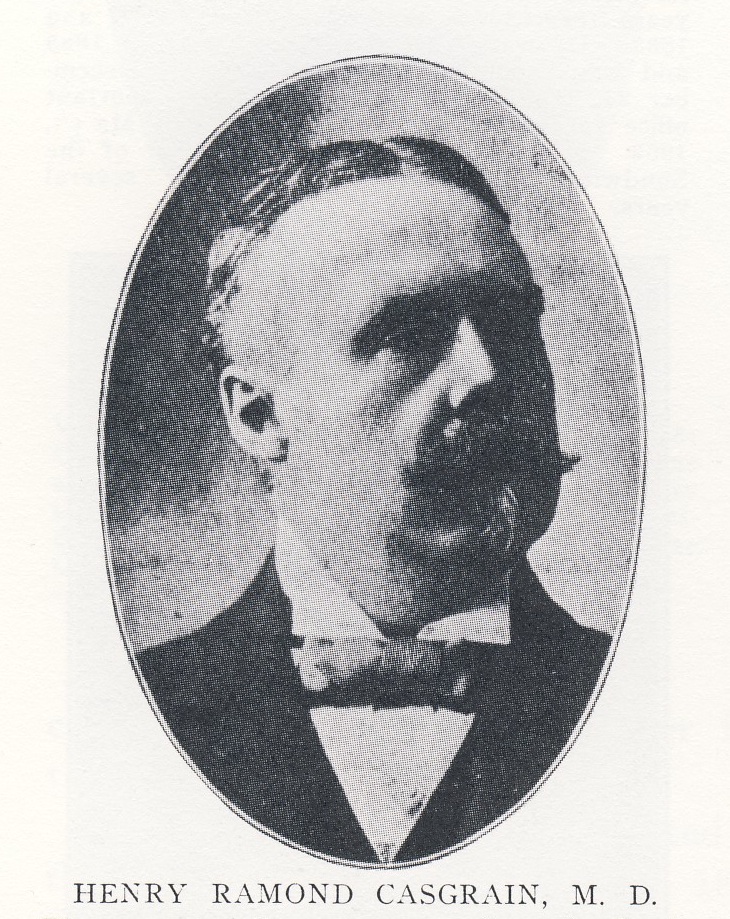 Even some of the leading practitioners who had been born and raised in Windsor displayed this same tri-cultural profile. R. H. Casgrain, for example, was born in Sandwich in 1857, the sonof Charles Eustace Casgrain, a francophone physician originally from Quebec, but who had studied Medicine at McGill. He graduated from Assumption College and got his MD from the Detroit Medical College in 1879, before further studies at Trinity Medical College, Toronto, and in London and Paris, returning to Windsor to practice medicine and surgery with his father. He did surgical residencies in Chicago in 1892, and in England and France in 1902. Casgrain was surgeon to the 21st battalion, to the Canadian Pacific Railroad and to the Hotel-Dieu City Hospital where he created a cabinet of medical curiosities featuring ovarian cysts. (Brien, 1950: 14, 15).
The growth of industry andprosperity in the early 20th century transformed the Border Cities and Detroit into its own medical universe, both attracting and generating border-crossing practitioners. One famous example was Norman Bethune, a graduate of the University of Toronto medical school who would go on to great international fame asa doctor and surgeon of revolutionary causes, pioneering mobile blood transfusion units for the Republican cause in the Spanish civil war, then setting up mobile surgical theatres in the northern hills of China to assist the Chinese communists.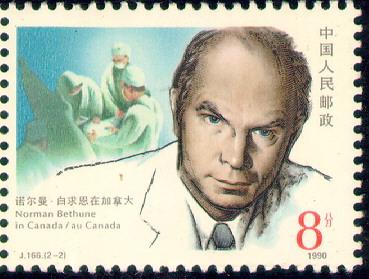 Bethune stamp, People's Republic of China
Before taking that high-historical international road, Bethune had taken a more mundane one, crossing the border in the 1920s to set up a practice in Detroit, Michigan, and later taking up an appointment there as thoracic surgeon at the (Brittain, 1964).
Nurses also began to follow that cross-border training and practice route in the 1920s. One such practitioner was Eleanor McMillan, a young woman from a Blenheim farming family who studied at the Chatham General Hospital School of Nursing, and who was finishing her training at the Henry Ford Hospital in Detroit in 1924 when the last North American outbreak of the virulent form of smallpox, variola major, broke out in Detroit-Windsor (Henderson, 2008).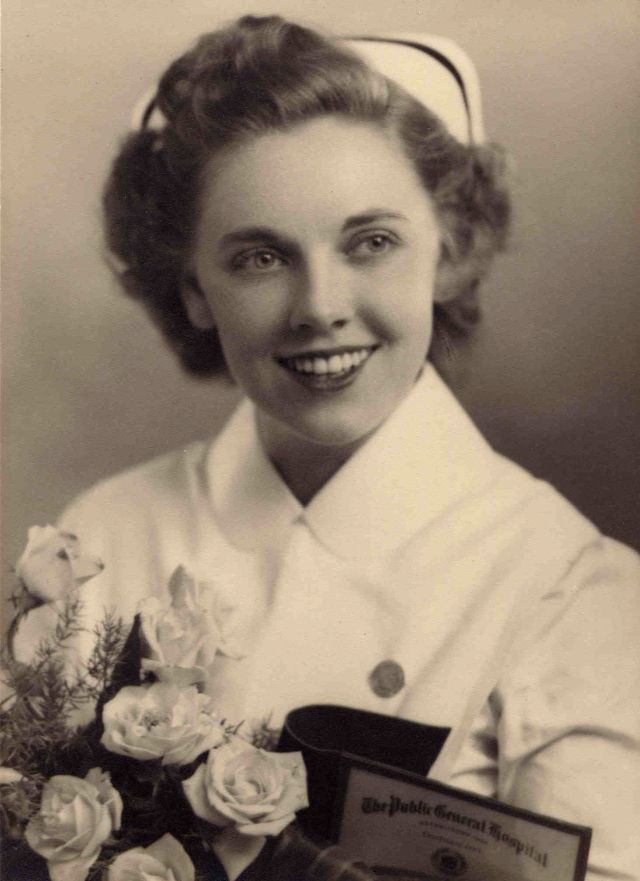 2. Practicing Border City Health
Between 1890 and 1920 one layer of this eclectic group of practitioners had come to exercise its leadership over medical and health matters: in keeping with developments elsewhere, these were male medical doctors, mostly anglophone, and mostly trained in Canada's then "big 3″ medical schools: Toronto, Queen's and McGill. A surprising number of them were locally-born, and it should be emphasized that many still went very far afield to complement their degree with further training or residency in the United States, England, or France prior to returning home to practice. The Medical Society, originally founded in 1870, was revitalized in the early 20th century, bringing these licensed medical doctors an association for professional and scientific self-improvement, and for representing their public interests (Fry, 1989: 32). Along with the building of Hotel Dieu and the normalization of the Medical Officers of Health appointments in the area, these were the first signs of the leap in institutional complexity and power that were about to transform Border City medicine completely.
The period from 1917 to 1935 was pivotal for Border City medicine. During these years there was not only a rapid increase in the number of health care workers in this region, but also greater coordination of services among the distinct Border City municipalities, and ultimately, the crystallization of modern health institutions. This was a time of significant population growth in the Border Cities, due largely to the proliferation of work opportunities in offices and factories, particularly in the automotive sector. The Border Cities more than doubled their population between 1911 and 1921, and by 1931, 75 percent of Essex County lived in urban areas, compared to just 48 percent twenty years earlier (Morrison, 1954: 233, 10).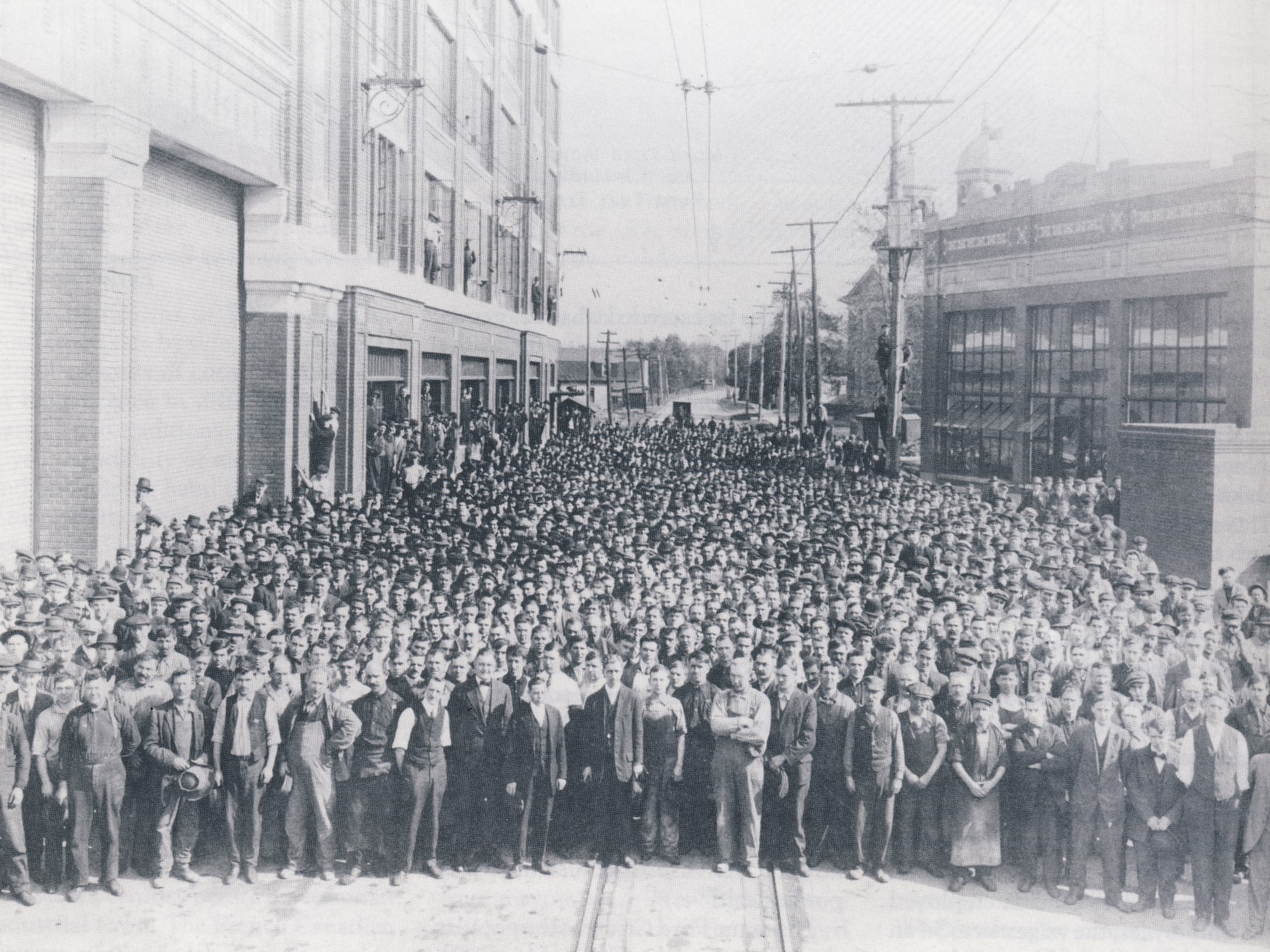 Factory workers of Ford Motor Company at Riverside Drive near Drouillard, October 1915.
This urban expansion was accompanied by an increase in the number of health workers in the City of Windsor. The number of physicians and surgeons, for instance, increasedfrom 54 to 84 between 1921 and 1931 — a 56 percent increase over ten years. Even more notable, the number of nurses jumped from 158 to 361 between 1921 and 1931, a 128 percent increase that represents the greatest proportional increase in the number of nurses for any ten year span in the 20th century. The total number of health workers also soared from 81 in 1911, to 252 in 1921 to 510 in 1931, a more than five-fold increase in just twenty years. The relative impact of this growth is underscored by the fact that health care workers as a percentage of the total Windsor workforce, nearly doubled over these two decades (Census of Canada, 1911-1931).
Windsor and the other border municipalities – Walkerville, Sandwich, and Ford City – began creating an infrastructure of public administration and urban services at this time. The first major body to tackle these issues was the Essex Border Utilities Commission, created in 1917. Though each municipality remained a distinct political entity until 1935, the Utilities Commission represented one of the earliest cooperative arrangements that sought to address the problems of the Border Cities as a whole (Price and Kulisek, 71). The Commission handled matters related to water supply, sewers, and district planning, but most importantly for our purposes, it also acquired jurisdiction over public health and hospitalization by assuming control of the new Local Board of Health for the Essex Border Municipalities, created in 1919.
This signaled a fundamental shift in the way that health care was viewed in the Border Cities. No longer narrowly regarded as individual practitioners treating individual patients, health care was now understood and entrenched as an infrastructural project and a public utility.
Another impetus for the creation of a new Joint Board of Health was the Spanish influenza epidemic, which first struck the Border Cities in September 1918. Like elsewhere in Canada and around the globe, its impact was devastating. At least 126 local residents died in October and November alone, and newspaper reports emphasized that Hotel-Dieu was both understaffed and overcrowded with patients (The Border Cities Star, 31 October, 1918). In the midst of this crisis, officials lamented what they referred to as a "lack of uniformity in regulations governing the control of contagious disease" (The Border Cities Star, 13 November, 1918).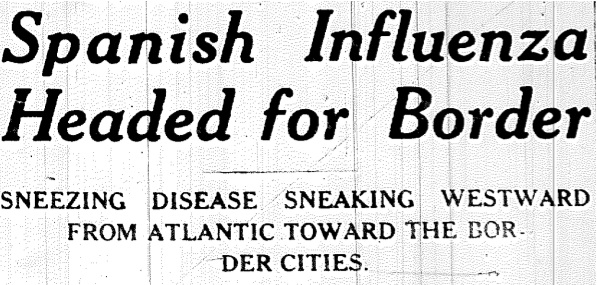 The Border Cities Star, 23 September 1918.
"It is when one has had close personal experience with incidents such as these, when one has had to send nurses by the dozen up against the most virulent smallpox with nothing to protectthem except vaccination and they nurse the disease week in and week out without contracting it, when one has seen a community of thousands of persons threatened with decimation by smallpox and one has seen wholesale vaccination pull the disease up short and weeks and weeks go by without any fresh cases at all, then and then only does one fully appreciate the marvelous gift which Jenner made to science and humanity." – Fred Adams in the Canadian Medical Association Journal, August 1924.
Once created by the province in 1919, one of the first responsibilities of the Joint Board of Health was to appoint a new Medical Officer of Health for the Border Cities. They chose Dr. Frederick Adams, an epidemiologist from Toronto who had served overseas during World War I as a major with the Canadian General Hospital. Adams led a profound transformation of public health in the Windsor area, introducing new objectives and capabilities that were clearly visible by the 1920s.


Fred Adams, Medical Officer of Health for the Border Cities (1919-1940)
The Border Cities Star, 2 November 1929.
These capacities were especially evident in February of 1924, whena smallpox epidemic – the last in the country's history – struck the Border Cities. Doctors recognized early on that they were dealing with an extremely virulent and irregular form of the virus (Adams, 1924: 692). Adams and the Board responded quickly, however, and worked in collaboration with nurses and physicians to provide emergency vaccinations. The Board also bought full page advertisements in the Border Cities Star, and issued prepared statements to every major employer in the city which urged workers to be vaccinated. In a highly efficient and coordinated public health mobilization, 50,000 people received vaccinations during the last week of February, and the epidemic was abruptly curtailed ("Lessons from the Windsor Outbreak of Smallpox," 1924: 316).
Shortly thereafter, the Border Cities, along with Toronto, Hamilton and Brantford, participated in Ontario's diphtheria prevention pilot program. Beginning in 1925, this campaign ran throughout the 1930s and was conducted primarily within schools, where local children received free treatments of diphtheria toxoid. Once again, the highly coordinated efforts of Adams and the Board of Health, along with nurses, physicians, and the individual school boards elicited a positive response from the public, and made the Border Cities an integral component in this pioneering Ontario pilot program. At the time this Ontario program compared favourably with a less effective program in Detroit, where public health officials relied on individual appointments in doctors' offices rather than large-scale immunization clinics in schools (MacDougall, 1990: 142-3). The Ontario program has been credited with the near elimination of diphtheria among children by the end of the 1930s, while it remained a dreaded scourge in other Western countries.
(Archives of Ontario)
To the general public at this time, one of the most perceptible signs of expansion in health care would surely have been the proliferation of new institutions for treating the sick and training health workers. The Essex County Sanatorium had first opened in 1913 as a project of the Border Chapter of the Imperial Order Daughters of the Empire (IODE), and when fire destroyed the original building in 1920, the IODE constructed a new facility on Prince Road. The Salvation Army opened Grace Hospital in 1920 with just 28 beds, but it expanded to 120 beds with the addition of a new wing in 1922. These projects were followed shortly after by the Medical Arts Building onOuellette Avenue in 1930, as well as the East Windsor Sanatorium (later the East Windsor General Hospital) in 1931.
A new nursing school was also erected at Grace Hospital during this era, complementing the nurses' training school which had been present at Hotel-Dieu since 1907. These schools were essential for accommodating the significant influx of aspiring nurses in the Border Cities throughout the 1920s. This was also the decade that the number of women working in health care began to soar relative to the number of men. By 1931, women constituted 76 percent of Windsor's health care labour force, compared to 64 percent ten years earlier (Census of Canada, 1921-1931).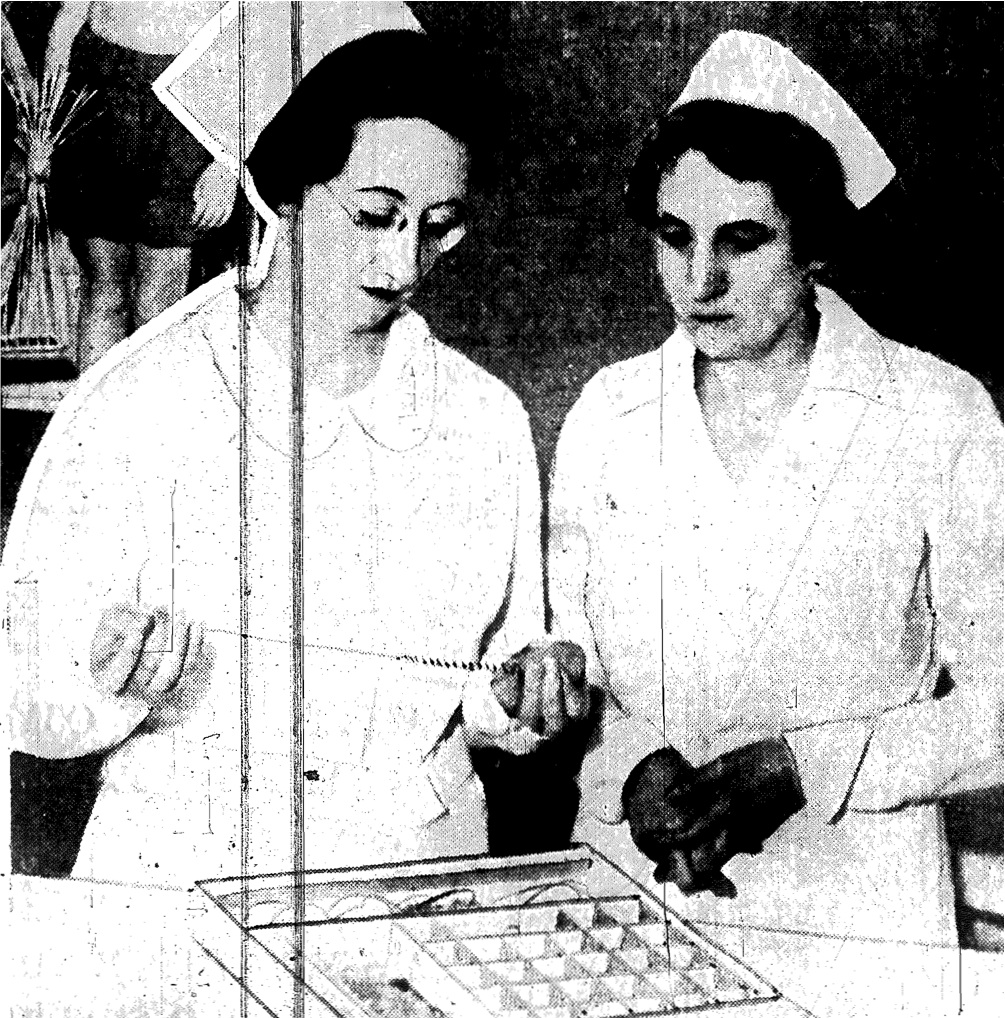 "Miss Caroline LaRose (at right), Superintendent of Metropolitan General Hospital, looks on as Nurse Mildred Westcott, places the name of an expected baby in bead-letters on a string. This is how newcomers are identified." Border Cities Star, 23 February 1935.
"The greatest community project ever put over in Canada." – Dr. D.T. McEachern, associate director of the American College of Surgeons and director of hospital activities for Canada and the United States, on the opening of Metropolitan General Hospital (The Border Cities Star, 2 March 1928).
Of all the new facilities constructed during this period, the crowning achievement was Metropolitan General Hospital. Its creation had been one of the major objectives of the Essex Border Utilities Commission since its formation, and the Commission oversaw the hospital's operation from its launch in 1928 until amalgamation in 1935. Reflected in its name, the Metropolitan General Hospital represented the physical embodiment of the cooperative work that the Commission had fostered across municipalities for years.
On February 23, 1935, just months before the Border Cities of Windsor, Walkerville, Sandwich and Ford City officially amalgamated into the larger City of Windsor, The Border Cities Star ran a feature on the state of local health care. The paper heralded the quality of care provided by the dedicated nurses and physicians in the region's five hospitals, and marveled at the technological innovations housed within. After a nearly twenty year process punctuated by demographic transformation, two epidemics and major infrastructural initiatives, the health care institutions of the Border Cities had assumed their modern form.
3. Innovating Practices
This dynamic period in Windsor medicine, nursing and public health in the 1920s was the platform for a series of innovative, practitioner-driven projects that distinguished the city from the 1930s to the 1960s. One of the most significant of these was Windsor Medical Services, a very early and extremely successful model of full health insurance coverage established in conjunction with the in 1937. A Depression-era attempt to provide an affordable way for the population of Windsor and, eventually, Essex County to get access to physician and hospital care, it was also, of course, a way for medical doctors to band together to protect themselves against the significant drop in clientele during the depression. It demonstrated a high degree of professional solidarity and cohesion among Windsor doctors, and it was unique enough to be considered an important model by proponents of expanded health coverage from north and south of the border (Muma, 1995). By the early 1950s this pioneering plan involved 211 physicians and covered 85 percent of the population for physician care in the home, office, or hospital for almost all types of services andillnesses (Darsky, Sinai and Axelrod, 1958).
"The story [of Windsor Medical Services] … is a story of imagination, dedication, and above all, medical statesmanship. Woven through it is the same element that has made medicine great, the element of research." – R.B. Robson in the Canadian Medical Association Journal, March 1960.
Not only was Windsor Medical Services set up in 1937 following a feasibility study funded by the , it was from its beginning conceived as a "laboratory" that would feed its data into the University of Michigan Health Economics unit, for on-going evaluation. The Essex County Medical Society had first tried to use medical relief money to fund its research into the feasibility of an insurance plan, but the proposal was vetoed by the Ontario government. Connections with the , an important partner in the Rockefeller Foundation health research agenda, allowed the Windsor practitioners to get a Rockefeller Foundation grant (of 23,800 dollars — equivalent to roughly 400 thousand dollars today) and move ahead with the insurance plan (Robson, 1960: 604). The exhaustive, state-of-the-art study of Windsor Medical Services, conducted in 1954 and published by Harvard University Press in 1958, was simply theculmination of 17 years of on-going research on the Windsor experiment by local physicians, Michigan faculty and the Rockefellers. One of the Michigan researchers, Nathan Sinai, was developing a pilot plan for voluntary health insurance in the US over the same period, which became the prototype for Blue Shield. Once again, the proximity of Windsor to the border invested its medical and health universe with a unique quality, and enabled a bold experiment in reform.
Another radical innovation in medical education took place in Windsor between 1947 and 1952 when the established the Metropolitan School of Nursing as an academically and financially independent, nurse-run academy that would work intandem with the Met Hospital. Backed by a $160,000 grant from the , and following an inspection of 11 possible associate hospitals across the country, Windsor's Metropolitan Hospital was chosen due to its excellent new facilities and its "progressive medical staff" (Fidler, 1952: 49). The school was motivated by dissatisfaction with the hospital-run nurse training school model, which the CNA was not alone in criticizing. A way for hospitals to get cheap labour, trainees received poor academic instruction, and their training was dragged out over three years filled with 12-hour days of often menial chores that had nothing to do with nursing. The objective of Windsor's "Demonstrator School" was to show that an independent institution run by nurses could attract better candidates to the field, give them an academically superior training in a shorter period of time, and achieve sound finances through remuneration from the hospital for the hours its trainees did work there.
Home Magazine, 24 February 1949
(from 'Metropolitan School of Nursing Scrapbook,' Library and Archives Canada)
Nettie J. Fidler, a professor at the University of Toronto's School of Nursing, was appointed as director, and candidates were selected from across the country (including three from the Windsor area) for the first class of 1948. Initially, the Metropolitan School of Nursing was a complete success, warmly welcomed by the superintendent, board and staff of the Met Hospital and receiving close attention from medical observers and the press throughout the Western world. The federal government provided $100,000 for a dedicated school building. But in 1949 the project was side-swiped by a scandal involving hospital superintendent, Horace Atkin and Windsor mayor, Arthur Reaume, also the two leading members of the Met Hospital board.
In February 1949 the two "married men" invited four young nurses from the Met Hospital to a glamourous press photographers' ball at Detroit's Book-Cadillac Hotel, and this brought to a head a series of administrative and personality issues inside the hospital. Though no one from the School of Nursing was directly involved, the resulting Royal Commission of Inquiry (!) led to the resignation of the entire board, including Atkin and Reaume. The new hospital board refused to honour any of the agreements signed by its predecessor, including the commitments made to the School of Nursing. The hospital, meanwhile, had established its own in-house training facility along the lines of the very model the Metropolitan School of Nursing was designed to challenge.
Following two years of acrimonious dispute, the CNA determined that it wouldhave to close the school when the pilot program ended in 1952, despite the fact that the educational objectives were universally declared to have been met, including by independent evaluators from the medical profession. The school graduated 87 nurses from eight provinces under the new model, including two dozen from Southwestern Ontario, and a survey done in 1959 showed that a substantial number had achieved leading positions in the profession. Nettie Fidler left to take up the position of head of the School of Nursing at the University of Toronto.
Henri Breault
(Portrait courtesy of artist Irma Councill and The Canadian Medical Hall of Fame)
Other pioneering initiatives came out of Windsor in the wake of this. , the first pre-paid pharmaceutical services plan in North America, had its origins in Windsor in 1957. In the 1950s and the 1960s Henri Breault, a paediatrician who was the director of the Poison Control Centre at Hotel Dieu, developed the child-proof medicine containers that became mandatory in Ontario by 1974, followed soon after by the rest of North America. Of political importance, , the Member of Parliament from Windsor who served as Minister of National Health and Welfare from 1946 to 1957, was able to represent the Liberal Left in advocating, and finallyenacting, Canada's hospital insurance program – another important step on the road to medicare – at a time when thePrime Minister and other senior members of the Liberal government were openly against it.
The period after 1950 appears to have been a time of significant growth and transformation in Border City medicine, likely associated with the revitalization of the city associated with the auto-pact (again, the crucial role of the border as a transformer of the local medical universe). Census statistics on health practitioners in the metropolitan area register a further period of growth in the 1950s. The itself entered the fray at this point, not only by coming into existence in 1963, but also by establishing a that had some role in this proliferation of nurses in the 1960s and 1970s. Another notable feature of this era was the slow but steady rise in the numbers of women medical doctors, though that picture does not change radically until the 1980s. This, more recent chapter, is one in need of much more research.
Our last example of the internationalism of Border City health practice takes us back to Eleanor McMillan, the Blenheim girl who graduated from Chatham General Hospital School of Nursing and crossed the border to work at Henry Ford during the 1924 smallpox epidemic. Though she subsequently became a US citizen and left the ranks of nursing, her son, , as was the tradition in his family, applied to study Medicine at Queen's University in Kingston, Ontario in 1946. Queen's, however, was not accepting anyone with foreign citizenship due to the demand from returning veterans of WW II. Henderson studied Medicine in the US instead (Henderson, 2008). He then went on to a brilliant career in public health, eventually becoming the Director ofthe World Health Organization's smallpox eradication program, which did in fact achieve the global eradication of smallpox in 1977, the only global eradication success story in the history of medicine. The example nicely expresses the international medical energies and practitioner experimentation that have passed through this region over the course of its history, some of it captured for a time, given a whirl, and leaving its mark locally; in other cases, like that of Eleanor MacMillan and her son, Donald Henderson, innovative energies that moved on to ambitious health reform on very distant horizons.
The new building of the Windsor Program – Schulich Schoolof Medicine and Dentistry
Windsor's medical history is very contemporary. The most prevalent public health issues in the news today are questions about immunizing masses of people against H1N1 and the health care reform debates in the US, large health questions in which Windsor practitionerse played a pioneering and self-consciously experimental role, effecting highly coordinated public health vaccinations and developing a system of comprehensive health coverage.
This is a historic moment for Windsor, and for Windsor medicine, with theinauguration recently of the satellite campus of the University of Western Ontario's . Though not the first instance of formal medical and health education in Windsor, certainly the school of medicine is a culminating moment in Windsor's health and health practitioner trajectories. It is also the beginning of a new chapter in the story of Border City medicine that we hope will be equally influenced by the dynamic and border-crossing confluence of many medical currents and a remarkable tradition of medical innovation.
, Department of History, University of Windsor
, University of Windsor
The authors would like to acknowledge the research assistance of Melissa Valentik, Nicolina Baccari, Patrice Allen, Edward Cervini and Jesslyn Effler. Special thanks to Larry Kulisek, Trevor Price and Marty Gervais for leads and ideas about situating this story in the larger history of Windsor. We have benefited from particular help from Mike Fish at Windsor's Community Archives, located in the Windsor Public Library, and from the staff of the Archives of Ontario and the University of Toronto Archives.
Support for this research comes from the , University of Windsor. "Border City Medicine" was originally the inaugural presentation in the Medical Arts, Social Sciences and Humanities (MASSH) Lecture Series at the University of Windsor.
References
Adams, Frederick, "The Epidemic of Virulent Smallpox in Windsor and the Vicinity," The Canadian Medical Association Journal 14: 8 (August 1924): 692-6.
Anderson, Fannie. Doctors Under Three Flags. Detroit: Wayne University Press, 1951.
The Border Cities Star, September 1918 – February 1935.
Brien, J.W.  The Medical Men of Essex County.  Windsor: Essex County Medical Society, 1950.
Brittain,Donald. Bethune. National Film Board of Canada, 1964.
[Census of Canada, 1861] Board of Registration and Statistics. Census Returns – 1861 Essex County, Ontario (microfilm). Ottawa, Public Archives of Canada, 1955. (reel no. C-1020-1021).
[Census of Canada, 1871] Board of Registration and Statistics. Census of Canada, 1871 – Essex County, Ontario (microfilm). Ottawa, Public Archives of Canada, 1955. (reel no. C-9888-9890).
[Census of Canada, 1891] Board of Registration and Statistics. Census of Canada, 1891 -Essex (North, South) District, Ontario (microfilm). Ottawa, Public Archives of Canada, 1955. (reel no. T-6334-6336, 6427).
[Census of Canada, 1901] Board of Registration and Statistics. Census of Canada, 1901 – Essex County, Ontario (microfilm). Ottawa, Public Archives of Canada, 1955. (reel no. T-6465, T-6466, T-6467).
[Census of Canada, 1911] Department of Trade and Commerce, Censusand Statistics Office. "Number of persons 10 years of age and over in cities of 15,000 and over engaged in gainful occupations by Aggregates, Nativity, and Age periods, 1911″ (Table VI). Occupations of the People. Fifth Census of Canada, 1911. Ottawa, Ontario. p. 420-427.
[Census of Canada, 1921] Dominion Bureau of Statistics. "Occupations of the population 10 years of age and over, classified by sex and age groups, for cities of 30,000 and over, 1921″ (Table 5). Occupations. Sixth Census of Canada, 1921. Ottawa, Ontario. p. 594-611.
[Census of Canada, 1931] Dominion Bureau of Statistics. "Gainfully occupied, 10 years of age and over, by occupation and sex, for urban centres of 15,000 to 100,000 population, 1931″ (Table 43). Occupations and Industries. Seventh Census of Canada, 1931. Ottawa, Ontario. p. 299-309.
[Census of Canada, 1941] Dominion Bureau of Statistics. "Gainfullyoccupied, 14 years of age and over, by occupation, age and sex, for cities of 100,000 population and over, 1941″ (Table 7). Gainfully Occupied by Occupations, Industries, etc. Eighth Census of Canada, 1941. Ottawa, Ontario. p. 224-232.
[Census of Canada, 1951] Dominion Bureau of Statistics. "Labour force, 14 years of age and over, by occupation and sex, showing age group, marital status, and the number of wage-earners for the census metropolitan areas of cities of 100,000 population and over, 1951″ (Table 14). Labour Force. Ninth Census of Canada, 1951. Ottawa, Ontario. p. 69-85.
[Census of Canada, 1961] Dominion Bureau of Statistics. "Labour force, 15 years of age and over, by occupation and sex, showing age group, marital status and thenumber of wage earners, for the census metropolitan areas of cities of 100,000 population and over, 1961″ (Table 23). Labour Force. 1961 Census of Canada. Catalogue no. 94-501. Ottawa, Ontario. p. 117-137.
[Census of Canada, 1971] Statistics Canada. "Labour Force 15 Years and Over, By Detailed Occupation and Sex, for Census Metropolitan Areas, 1971″ (Table 4). Occupations. 1971 Census of Canada. Statistics Canada Catalogue no. 94-715. Ottawa, Ontario. p. 22-28.
[Census of Canada, 1981] Statistics Canada. "Labour Force 15 Years and Over by Detailed Occupation and Sex, for Census Metropolitan Areas and Census Agglomerations of 50,000 Population and Over, 1981″ (Table 12). Population – Economic Characteristics. 1981 Census of Canada. Statistics Canada Catalogue no. 93-966. Ottawa, Ontario. p. 57-62.
Darsky, Benjamin J., Nathan Sinai and Solomon J. Axelrod. Comprehensive Medical Services Under Voluntary Health Insurance: A Study of Windsor Medical Services. Cambridge: Harvard University Press, 1958.
Fidler, Nettie J. "Report of the Metropolitan School of Nursing," The Canadian Nurse (November, 1952): 48-52.
Fry, John. Essex County Medical Society, 1914-1989: 75 Years of Dedication. Windsor: Herald Press, 1989.
Henderson, Donald. Interview conducted by Gilberto Hochman and Steven Palmer, Baltimore, Maryland, November 13, 2008.
Hotel Dieu website, "History and Mission", http://www.hdgh.org/Aboutus/history_mission.asp, accessed October 3, 2009.
"Lessons From the Windsor Outbreak of Smallpox: Report from the Provincial Board of Health, Ontario," The Canadian Medical Association Journal 14: 4 (April 1924), 315-6.
MacDougall, Heather. Activists and Advocates: Toronto's Health Department, 1883-1983. Toronto: Dundurn Press, 1990.
Morrison, Neil F. Garden Gatewayto Canada. Windsor: Herald Press, 1954.
Muma, James Karl. "Developing Comprehensive Medical Insurance: Windsor Medical Services as an Example of a Pre-OHIP Non-Profit Scheme." [Unpublished major paper]. Windsor: University of Windsor, 1995.
Price, Trevor and Larry Kulisek. Windsor 1892-1992: A Centennial Celebration. Windsor: Chamber Publications, 1992.
Robson, R.B. "Windsor Medical Services Incorporated." Canadian Medical Association Journal 82 (March 12, 1960): 604-7.
Valentik, Melissa. "Fighting Diphtheria in the Border Cities: The Development of a Campaign." [Unpublished]. Windsor: University of Windsor, 2007.